The SmartMike+ by SabineTek is an excellent value for the price. It is an incredibly small lavalier mic that provides surprisingly good quality audio. This mic is designed for Bluetooth pairing with your iPhone or Android device, making it perfect for content creators.
Together with the free app, you can record audio suitable for podcasts, vlogging, teaching, interviews, and more.
For more features and information, continue reading our SabineTek SmartMike+ review below.

Mic Features
The SmartMike+ is designed to be a professional level mic that you can use with your smartphone or camara. So, the features are a mix of sound technology and convenience.
Multi-Level Noise Cancellation
This mic's companion app is equipped with a rather sophisticated embedded algorithm for multi-noise cancellation. This control enables the mic to exclude surrounding noise while picking up authentic sound. So, you get a clear sound with less ambient noise. Aside from a clear recording, you also get a clean audio file that works well as a source for speech recognition.
Synching and Real-time Mixing
This wireless mic has a full-band audio range of 44.1 – 48kHz, which is stereo and CD quality. In fact, it's more than six times the frequency that standard mono microphones have.
It also comes with real-time, automatic syncing, which you will appreciate once you realize how much time that saves you during post-editing. This smartmike also supports multi-channel, real-time mixing. You can synchronize your audio with background music in real-time.
Real-time Monitoring
Using the included headphone with this microphone, you can monitor audio in real-time, allowing you to keep track of your progress. The Bluetooth connection consists of a built-in Qualcomm and an MFI chipset to give you the fastest, most stable connection.
Portability and Battery Life
This wireless lavalier mic is small and portable. When using, just clip it to your pocket or shirt collar. The battery is a 110mAh lithium battery that affords you five hours of operating life when fully charged.
Design Highlights
The SmartMike+'s best features are the sound quality and ease of use. The noise cancellation feature, as well as the recording capability of the mic itself, gives you clear, quality audio.
The Bluetooth connection is stable and reliable. Because it's wireless and small, you're able to pin the mic where you need it without worrying about troublesome cables.
Read more about the sound quality below.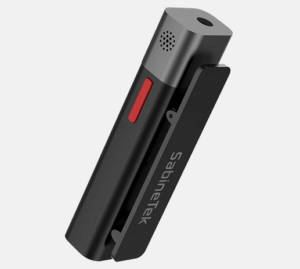 Most Bluetooth microphones only transmit mono voice quality at a rate of 8khz/16khz rate. The SmartMike+ is capable of 44.1khz – 48khz stereo sound pickup, along with real-time transmission. When using the SMike+ app, you have the additional option of interview mode, which enables you to record audio from the SmartMike+ and your phone's built-in microphone at the same time. Or, you can pair a second SmartMike+ so you can record three people at once.
Pairing it with a second mic also means you can transform the pair into a transmitter and receiver. One mic transmits audio to the other, which you can connect to any device using a jack.
Meaning, you can connect the mic to any other devices such as professional camaras easily.
Another neat sound feature is you can use the app to mix background music from a streaming app to your recording. And, you can do it in real-time.
The app is very easy to operate. You have a choice of three operating modes, which are Vlog, Interview, and Audio. Vlog mode is the video recording mode, Interview mode records video from your phone's microphone along with the wireless mic, and Audio mode, of course, records audio only.
One exciting feature of the app is the audio transcription capability. Once you finish a recording, you can tap the CC icon, and the app transcribes your audio. This feature supports more than 120 languages.
Transferring files from your phone to your computer is easy using the cloud and share features. This one takes a little bit of experimentation, but it does work.
Advantages of the SmartMike+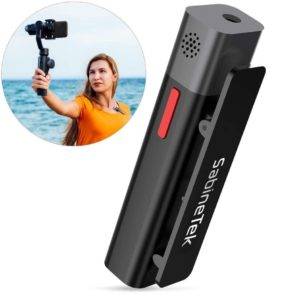 This wireless lavalier mic works exceptionally well with the iPhone or other iOS device. Even though it's tiny, it has a lot of technology packed inside of it. You can expect quality audio with minimal setup required upfront.
Once you download the app and then pair the mic with your phone, you're ready to start recording. The app is available for Android as well.
Disadvantages of the SmartMike+
One of the disadvantages of this lavalier mic is that it does not work without the SMIKE+ app. All recording is done through the app, and your choices are restricted to the features within the app. You can't record directly to your phone using the video app.
While the app has an adequate selection of features, many customers don't like the fact that they must use that app rather than one they may already have. Because it won't pick up sound from any of your devices, you must download and use the SMike+ app.
This also means that you can't use the mic for other applications such as screencasts or conference calls. It's intended for recording using their proprietary app only. Such limitations are just that, limitations that some users find disappointing.
Your order of the SmartMike+ will come with the following items:
SmartMike+ wireless microphone
1 earphone with a 3.5mm jack
1 USB charging cable
1 dead-cat windshield
1 foam wind muff
1 carrying pouch
1 user's manual
All in all, you can't beat the quality of the tiny SmarkMike+ lavalier microphone by SabineTek. The Bluetooth technology gives you a stable, wireless connection for recording. It delivers clear audio with little to no background noise, making it an excellent choice for podcasting and vlogging using your phone.
While you must use their SMike+ app to capture audio, the app does perform well. It also has several recording and mixing options. In fact, you can monitor and mix your recordings in real-time, which saves you considerable time later on.